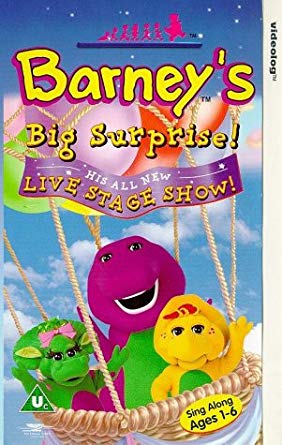 Barney's Big Surprise is a UK VHS release by PolyGram Video on 22nd March 1999.
Description
Edit
Barney Is A Dinosaur
If You're Happy And You Know It
Welcome To Our Treehouse
The Baby Bop Hop
Happy Birthday To Me
The Airplane Song
My Kite
Car Sing-Along Medley (In The Car And Having Fun, Itsy Bitsy Spider, and Mister Sun)
Mr. Knickerbocker
Tinkerputt's Song
We Are Little Robots
The Rainbow Song
Hey Look At Me! I Can Fly!
4 Little Ducks That I Once Knew
Happy Birthday To Me (reprise)
If All The Raindrops
Old McDonald Had a Farm
I'm Mother Goose
Nursery-Rhyme Medley (Humpty Dumpty, Hey Diddle Diddle, Little Miss Muffet, Little Boy Blue, 1, 2, Buckle My Shoe, Sing A Song Of Sixpence)
Old King Cole
Happy Birthday To You
I Love You
Reception
Edit
Trailers and info
Edit
Community content is available under
CC-BY-SA
unless otherwise noted.