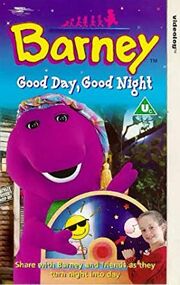 Barney's Good Day, Good Night is a UK VHS release by PolyGram Video on 1st June 1998.
Description
Edit
Barney and the kids are playing outside on a beautiful sunny day in the playground. Robert tells Barney that he has always wanted to be able to stay up all night long just to see what happens at nighttime. The kids are in for some nighttime fun during the day with the help of Barney's special "Night Timer." When the lights go down, they all imagine that it is nighttime and get ready for bed by taking a bath, putting on their pajamas and brushing their teeth. Barney teaches them that there are some unusual sights and sounds associated with nighttime. After singing some of their favorite "nighttime" songs, the stars begin to fade and before they know it, the morning sun is shining once again.
Children
Edit
Monet Chandler as Ashley
Sara Hickman as Kristen
Angel Velasco as Robert
Chase Gallatin as Stephen
Dinosaur
Edit
Barney Theme Song
Four Little Butterflies
Mister Sun
The Barney Bag
What Makes a Flower So Pretty?
Growing
Getting Ready for Bed
Just One More Thing
Brahms' Lullaby
Listen to the Night Time
Are You Sleeping?
Aiken Drum
Twinkle Twinkle Little Star
Mister Sun (Reprise)
I Love You
Trailers and info
Edit
Original 1998 release (Version 1)
Edit
Barney Videos UK VHS Promo (12 Barney Video to Collect)
Barney's Great Adventure Trailer
Original 1998 release (Version 2)
Edit
Barney Videos UK VHS Promo (12 Barney Video to Collect)
Community content is available under
CC-BY-SA
unless otherwise noted.