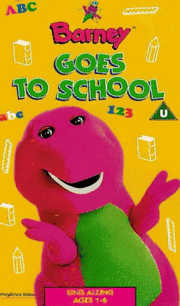 Barney Goes to School is a UK VHS release by PolyGram Video on 14th August 1995.
Description
Join Barney as he enjoys a typical day at school with the Backyard Gang. And joining them in finger-painting, pretend, and learning such center activities as ABC's and 123's (not to mention scampering after a mischievous hamster named "Zippity"), he discovers why the kids love going to school each weekday - learning is so much fun!
Songs
Barney Theme Song
I Wish There Was School Every Day
Look Through the Window
You're a Grand Old Flag
There Are Seven Days in a Week
The Alphabet Song
The Alphabet Chant
The Weather Riddle Song
The Fishing Song
The Shape Song
Alligator Pie
Hug a Color
What I Want to Be
If All the Raindrops
The Three Bears Rap
The Goodbye Song
I Love You
Credits
Community content is available under
CC-BY-SA
unless otherwise noted.