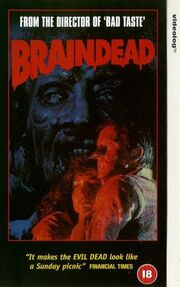 Braindead is a UK VHS release by PolyGram Video on 1st March 1993 and 14th August 1995. It got re-released by 4 Front Video and PolyGram Filmed Entertainment on 8th June 1998.
Description
Edit
Timothy Balme as Lionel Cosgrove
Diana Peñalver as Paquita María Sánchez
Elizabeth Moody as Vera Cosgrove (Lionel's mum)
Ian Watkin as Uncle Les (Lionel's uncle)
Brenda Kendall as Nurse McTavish
Stuart Devenie as Father McGruder (The Fighting Priest)
Jed Brophy as Void
Stephen Papps as Zombie McGruder
Murray Keane as Scroat
Glenis Levestam as Nora Matheson
Lewis Rowe as Albert Matheson
Elizabeth Mullane as Rita
Harry Sinclair as Roger
Davina Whitehouse as Paquita's Grandmother
Silvio Famularo as Paquita's father
Daniel Sabic as Baby Zombie Selwyn
Bill Ralston as Zoo official Stewart McAlden
Brian Sergent as Vet
Forrest J Ackerman as Forry (Tourist at Zoo with Monsters of Filmland magazine)
Peter Vere-Jones as the Undertaker
Tich Rowney as Barry
Tony Hiles as the Zookeeper
Peter Jackson (cameo) as the Undertaker's assistant
Trailers and info
Edit
Original 1995 release
Edit
Rental 1993 release
Edit
Reservoir Dogs
Cyborg 2: Glass Shadow
Little Devils: The Birth
Army of Darkness
Basic Instinct
Community content is available under
CC-BY-SA
unless otherwise noted.