We're Getting Mutants in the MCU - The Loop
Play Sound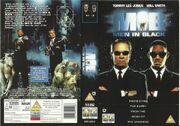 Men in Black is a UK VHS release by Columbia TriStar Home Video on 2nd February 1998 and 6th April 1998 and it got re-released by Columbia TriStar Home Entertainment on 5th August 2002.
The film also got aired on BBC Two on Thursday 1st September 2022, along with Emmerdale.
Description
[
]
Cast
[
]
Tommy Lee Jones as Kevin Brown / Agent K: J's grizzled and humorless mentor. Clint Eastwood turned down the part, while Jones only accepted the role after Steven Spielberg promised the script would improve, based on his respect for Spielberg's track record. He had been disappointed with the first draft, which he reportedly said "stank"; he felt it did not capture the tone of the comic.
Will Smith as James Darrell Edwards III / Agent J: A former NYPD detective, newly recruited to the MIB. Smith was cast because Barry Sonnenfeld's wife was a fan of The Fresh Prince of Bel-Air. Sonnenfeld also liked his performance in Six Degrees of Separation. Chris O'Donnell turned down the role because he found the role of a new recruit too similar to Dick Grayson, whom he played in Batman Forever and Batman & Robin. David Schwimmer also turned down the part. Like Jones, Smith said he accepted the role after meeting with Spielberg and cited his success as a producer.
Linda Fiorentino as Dr. Laurel Weaver / Agent L: A deputy medical examiner, and later J's partner.
Vincent D'Onofrio as the Bug: A giant alien insect who eats a farmer named Edgar and uses his skin and clothes as a disguise. He comes to earth to kidnap the Galaxy and use it to destroy the Arquillians. John Turturro and Bruce Campbell were both offered the role, but they turned it down, due to scheduling conflicts.

D'Onofrio also portrays Edgar, the farmer/abusive husband who gets killed by the Bug and has his form used by him.

Rip Torn as Chief Zed: The head of the MIB.
Tony Shalhoub as Jack Jeebs: An alien, posing as a pawn shop owner, who deals in illegal weapons.
Siobhan Fallon Hogan as Beatrice: The psychologically abused wife of the abusive farmer Edgar, whom the Bug killed and used his skin as a disguise.
Mike Nussbaum as Gentle Rosenberg: An Arquillian jeweler who is the guardian of "the Galaxy".
Jon Gries as Van Driver
Sergio Calderón as Jose
John Alexander as Mikey: An alien who poses as a Mexican being snuck across the border.
Patrick Breen as Mr. Redgick
Becky Ann Baker as Mrs. Redgick
Carel Struycken as Arquillian
Fredric Lehne as Agent Janus
Kent Faulcon as Jake Jensen
Richard Hamilton as Agent D: K's partner at the start of the film, he decides he is too old for the job and has K erase his memory so he can retire.
David Cross as Newton
Sean Whalen as Passport Officer
Voices/Puppeteers
[
]
Tim Blaney as Frank the Pug: A smart-talking pug-like alien.
Mark Setrakian as Rosenberg Alien
Brad Abrell, Thom Fountain, Carl J. Johnson and Drew Massey as the Worm Guys: A quartet of worm-like aliens that work for Men in Black.
Credits
[
]
Opening (Rental 1998 Re-release)
[
]
Columbia TriStar Home Video Ident
Columbia TriStar Warning Screen
Video Piracy Warning (Columbia TriStar Home Video) [announced by Dave Benson Phillips]
VSC PG Warning (Columbia Tristar Home Video/2020 Vision) [announced by Floella Benjamin]
Pirate Videos: Daylight Robbery [announced by Michael Angelis]
Men In Black The Game 1997 UK TV Advert [announced by Tim Allen]
The Mask of Zorro trailer [announced by Ringo Starr]
Men in Black: The Series [announced by Brian Cummings]
Men in Black: The Album UK TV Advert [announced by Enn Reitel]
European Captioning Institute Warning Screen (1995-2005)
Columbia Pictures Ident (Men in Black Version)
Start of Men in Black (1997)
Closing (Rental 1998 Re-release)
[
]
End of Men in Black (1997)
Closing Credits Film
Men In Black The Game 1997 UK TV Advert [announced by Tim Allen]
Opening (Original 1998 release) (Version 1)
[
]
Columbia TriStar Home Video Ident
Columbia TriStar Warning Screen
The Mask of Zorro trailer [announced by Ringo Starr]
Close Encounters of the Third Kind: The Collector's Edition [announced by Ringo Starr]
Men in Black: The Series [announced by Brian Cummings]
Domino's Pizza 1997 UK TV Advert [announced by Justin Fletcher]
For a great Domino's Pizza MEN IN BLACK meal deal, see the voucher enclosed with this video (silent)
Men in Black: The Album UK TV Advert [announced by Enn Reitel]
Don't miss the full-length video of Will Smith's Number 1 single "MEN IN BLACK" at the end of this video (silent)
European Captioning Institute Warning Screen (1995-2005)
Columbia Pictures Ident (Men in Black Version)
Start of Men in Black (1997)
Closing (Original 1998 release) (Version 1)
[
]
End of Men in Black (1997)
Closing Credits Film
Men in Black Will Smith (Music Video)
Opening (Original 1998 release) (Version 2)
[
]
Columbia TriStar Home Video Ident
Columbia TriStar Warning Screen
The Mask of Zorro trailer [announced by Ringo Starr]
Men in Black: The Series [announced by Brian Cummings]
Don't miss the full-length video of Will Smith's Number 1 single "MEN IN BLACK" at the end of this video (silent)
European Captioning Institute Warning Screen (1995-2005)
Columbia Pictures Ident (Men in Black Version)
Start of Men in Black (1997)
Closing (Original 1998 release) (Version 2)
[
]
End of Men in Black (1997)
Closing Credits Film
Men in Black Will Smith (Music Video)
Trailers and info
[
]
Original 1998 release (Version 1)
[
]
Opening

[

]
The Mask of Zorro (Coming Soon to a Cinema Near You)
Close Encounters of the Third Kind: The Collector's Edition (Coming Soon to Video)
Men in Black: The Series (Soon Available to Buy)
Domino's Pizza 1997 (UK TV Advert)
Men in Black: The Album 1997 (UK TV Advert)
Closing

[

]
Men in Black Will Smith (Music Video)
Original 1998 release (Version 2)
[
]
Opening

[

]
The Mask of Zorro (Coming Soon to a Cinema Near You)
Men in Black: The Series (Soon Available to Buy)
Closing

[

]
Men in Black Will Smith (Music Video)
Rental 1998 Re-release
[
]
Opening

[

]
Video Piracy Warning (Columbia TriStar Home Video/2020 Vision)
VSC PG Warning (Columbia Tristar Home Video/2020 Vision)
Pirate Videos Daylight Robbery
Men In Black The Game 1997 (UK TV Advert)
The Mask of Zorro (Coming Soon to a Cinema Near You)
Men in Black: The Series (Soon Available to Buy)
Men in Black: The Album 1997 (UK TV Advert)
Closing

[

]
Men In Black The Game 1997 (UK TV Advert)
2002 Re-release
[
]
Closing

[

]
Men in Black Will Smith (Music Video)
FACT Hotline Video Piracy Warning