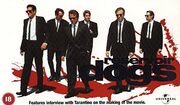 Reservoir Dogs is a UK VHS release by PolyGram Filmed Entertainment on 6th November 1995.
Description
Edit
Harvey Keitel as Mr. White/Larry
Tim Roth as Mr. Orange/Freddy Newandyke
Michael Madsen as Mr. Blonde/Vic Vega
Chris Penn as "Nice Guy" Eddie Cabot
Steve Buscemi as Mr. Pink
Lawrence Tierney as Joe Cabot
Randy Brooks as Holdaway
Kirk Baltz as Marvin Nash
Edward Bunker as Mr. Blue
Quentin Tarantino as Mr. Brown
Steven Wright as K-Billy DJ (voice)
Trailers and info
Edit
Rental 1995 Re-release
Edit
I.D.
The Usual Suspects
Separate Lives
Clockwork Mice
Reservoir Dogs: The Soundtrack
Death and the Maiden
Lucozade 1995 (UK TV Advert)
Stargate
Levi's (Cut for Men since 1850) 1995 (UK TV Advert)
Shallow Grave
Adidas 1995 (UK TV Advert)
Community content is available under
CC-BY-SA
unless otherwise noted.