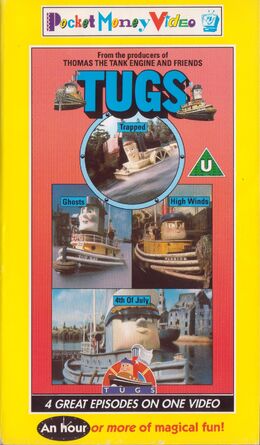 TUGS - Trapped/Ghosts/High Winds/4th of July is a UK VHS release by 4 Front Video and Castle Vision on 15th March 1993. It is essentially a reprint of the third TUGS video from Castle Vision with "4th of July" included. 
Description
Edit
From the producers of THOMAS THE TANK ENGINE AND FRIENDS.
4 GREAT EPISODES ON ONE VIDEO.
An hour or more of magical fun!
Episode Info
Edit
The Z-Stacks must share the upriver jobs with the Star Tugs. When a Tramper Zorran and Zug are towing goes out of control blocking the river and trapping the stars, Zorran tries to take advantage of the situation to get more work for the Z-Stacks. However, Zorran's scheme does not go as he planned.
Old sea stories - especially about ghosts are favourites amongst the tugs of Bigg City Harbour. No one will admit to taking them too seriously; so when Big Mac rushes back to the Star Pier one foggy night the other tugs laugh when he tells them he actually saw the "Ghost Fleet" looking for their lost tows. However, mysterious things happen the very next night that make the Star Tugs uncertain as to whether the Ghost story is true or not.
An old dirty tramper from Australia suspected of smuggling lurks outside the limits of Bigg City bay. It is the notorious Johnny Cuba. When bad weather suddenly comes, he forces Zebedee, one of the Z-Stacks, to tow him into the safety if the harbour and into hiding. Normally, Zebedee would have been glad to help out an old friend but this time – things are different.
Lillie Lightship is sad. Moored out of the harbour to guide boats and keep them out of danger, she never gets to see the Regatta. In spite of Lillie's warnings, a tramper sees her too late and hits her, making a large hole in her side. The Star tugs rescue her and she is towed into the yard to be mended, from where she sees the exciting, colourful regatta parade, with barges decorated by dockland firms, cranes, and buildings festooned with banners.
Episodes
Edit
Trapped
Ghosts
High Winds
4th of July
Created by Robert D. Cardona & David Mitton
Produced by Robert D. Cardona
Music by Junior Campbell & Mike O'Donnell
Directed by Chris Tulloch & David Mitton
© TUGS LIMITED 1989
A Castle Communications PLC release
Community content is available under
CC-BY-SA
unless otherwise noted.