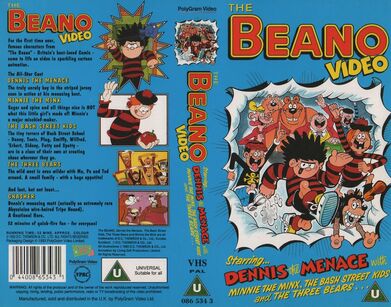 The Beano Video is a UK VHS release by PolyGram Video on 18th October 1993.
Description
Edit
for the first time ever, famous characters from The Beano - The Britain's best-loved Comic - come to life on video in sparkling animation.
The All-Star Cast DENNIS THE MENACE The truly unruly boy in the striped jerysey seen in action at his menacing best.
MINNIE THE MINX Sugar and spice and all things nice is NOT what this little girl's made of! Minnie's a major mischief-maker.
THE BASH STREET KIDS The tiny terrors of Bash Street School - Danny, Toots, Plug, Smiffy, Wilfred, Erbert, Sidney, Fatty and Spotty - are in a class of their own at creating chaos wherever they go.
THE THREE BEARS The wild west in even wilder with Ma, Pa and Ted around. A small family - with a huge appetite!
and last, but not least... GNASHER Dennis's menacing mutt (actually an extremely rare Abyssinian wire-haired Tripe Hound). A Gnational Here.
52 minutes of quick-fire fun - for everyone!
Episodes
Edit
Adventures in Dennis Sitting
Dennis the Menace and Gnasher In on the Act
The Bash Street Kids Face the Music
Gnasher and Gnipper Hot Dog
The 3 Bears Porridge
Minnie the Mix Minnie Chairs
Dennis the Menace and Gnasher Soap Box Cart
Dennis's Hiccups
The Bash Street Kids Lake Beautiful
Haunted House
The 3 Bears Scorcher
Dennis the Menace and Gnasher Sausages
Minnie the Minx Minnie Apples
The Bash Street Kids Space Case
Dennis the Menace and Gnasher Pink Glove
Greedy Bears Picnic
Oil Strike
Minnie the Minx Minnie Flying
Dennis the Menace and Gnasher Big Surprise
The 3 Bears Hare Soup
The Bash Street Kids Molar Mouth
Mauled
Gnasher and Gnipper Gnipper-Pecker
Minnie the Minx Minnie Clones
Community content is available under
CC-BY-SA
unless otherwise noted.