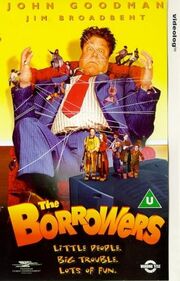 The Borrowers is a UK VHS release by PolyGram Video on 14th September 1998.
Description
Cast
John Goodman as Ocious P. Potter, a crooked lawyer who seeks to destroy the Lender family's house.
Jim Broadbent as Pod Clock, the patriarch of the Clock family.
Mark Williams as Exterminator Jeff, an exterminator who helps Potter.
Hugh Laurie as Officer Oliver Steady, a police officer who becomes suspicious of Potter's motives.
Bradley Pierce as Pete Lender, a boy who befriends the Clock family.
Celia Imrie as Homily Clock, the matriarch of the Clock family.
Flora Newbigin as Arrietty Clock, the daughter of Pod and Homily.
Tom Felton as Peagreen Clock, the son of Pod and Homily.
Raymond Pickard as Spud Spiller, an "outie" Borrower.
Ruby Wax as Town Hall Clerk
Aden Gillett as Joe Lender, the father of Pete Lender.
Doon Mackichan as Victoria Lender, the mother of Pete Lender.
Bob Goody as Minty Branch
Credits
Trailers and info
Original 1998 release
Power Rangers Turbo Action Figures 1998 (UK TV Advert)
Bean: The Ultimate Disaster Movie (Available to Buy)
Barney's Great Adventure (Available to Buy Soon)
Rental 1998 release
Community content is available under
CC-BY-SA
unless otherwise noted.