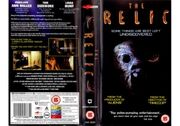 The Relic is a UK VHS release by PolyGram Video on 1997 and 1998. It got re-released by 4 Front Video and PolyGram Filmed Entertainment on 1999.
Description
Edit
Penelope Ann Miller as Dr. Margo Green, museum evolutionary biologist
Tom Sizemore as Lt. Vincent D'Agosta, Chicago police detective
Linda Hunt as Dr. Ann Cuthbert, museum curator
James Whitmore as Dr. Albert Frock, museum scientist and Margo's mentor
Clayton Rohner as Sgt. Hollingsworth, junior police detective and D'Agosta's subordinate
Chi Muoi Lo as Dr. Greg Lee, an ambitious museum scientist trying to apply the same research grant away from Margo.
Thomas Ryan as Tom Parkinson, the museum's head of security
Robert Lesser as Mayor Robert Owen
Diane Robin as Mrs. Owen, Mayor Owen's wife
Lewis Van Bergen as Dr. John Whitney, museum anthropologist who went missing after his expedition in South America.
Francis X. McCarthy as Mr. Blaisedale, a wealthy museum benefactor
Constance Towers as Mrs. Blaisedale, Mr. Blaisedale's wife
Audra Lindley as Dr. Zwiezic, medical examiner
John Kapelos as McNally, Chicago Police officer
Tico Wells as Bailey, Chicago Police officer
Mike Bacarella as Bradley, Chicago Police K-9 officer
Gene Davis as Martini, crime scene investigator
John DiSanti as Wootton, museum security guard
David Proval as Johnson, museum security guard
Jophery Brown as Frederick Ford, museum security guard
Lyn Alicia Henderson as Perri Masai, restoration technician
Don Harvey as Spota
Trailers and info
Edit
Original 1998 release
Edit
Snow White: A Tale of Terror (Coming Soon to Rent)
Rental 1997 release
Edit
Pirate Videos Daylight Robbery
Guinness 1997 (UK TV Advert)
A Life Less Ordinary (At a Cinema Near You)
Roseanna's Grave (Coming Soon to Rent)
Bean The Ultimate Disaster Movie (Coming Soon to Rent)
The Game (Coming Soon to Rent)
Quicksilver Highway (Coming Soon to Rent)
Trigger Happy (Coming Soon to Rent)
Dna (Coming Soon to Rent)
The Invader (Coming Soon to Rent)
TheraMed Liquid 1997 (UK TV Advert)
Community content is available under
CC-BY-SA
unless otherwise noted.